Choose the Right Marriage Officer for You
♥ ♥ ♥
Possibly the most important item to book for your wedding day, the one thing that makes it all happen, is your marriage officer. In this week's Wedding Planning Series instalment, we're featuring our resident wedding planner, Nicci of Nicolette Weddings' expertise for selecting the right marriage officer for your wedding!
Advertisement:


Different Types of Marriage Officers
While some couples are already affiliated with a church or place of worship, and already have their trusted religious head lined up for the task, others don't necessarily have such contacts and will now need to set out to find a great marriage officer to officiate their special day. Regardless of which couple you are, there are some important factors to consider when choosing the right marriage officer for you.
Your trusted minister, priest or rabbi from your own congregation
This is someone you know well and have an established spiritual and religious connection with. It is a person you trust and, as the head of your congregation, is spiritually and legally qualified to perform and officiate your wedding ceremony.
If you are set on having this specific person there to perform your ceremony, it is very important to contact them and enquire about their availability as soon as you have booked your venue, and thus have a secured date.
Religious Marriage Officers
Sometimes couples may be religious, hold specific religious beliefs and traditions, or their parents are particularly religious and wish for them to have a religious ceremony, but they are not necessarily affiliated with any religious institution. These couples may wish to hire a marriage officer who represents their common denomination and will perform their ceremony accordingly.
Non-denominational Marriage Officers
Non-denominational marriage officers are the perfect option for couples who aren't religious, or even those who would like to decide exactly how much religion is included in their ceremony. Choosing a non-denominational marriage officer means that you can incorporate any other traditions or customs into your ceremony, such as a Chinese tea ceremony, for example.
Non-denominational marriage officers will also marry individuals who have been married before, couples who both want their different and individual religions incorporated into their ceremony, and same-sex couples.
Choosing a Marriage Officer
The following section reveals a few things that one should consider when selecting a marriage officer:
1. Consider Location of your Wedding Ceremony
When booking your marriage officer, it's important to inform them of the exact location you intend to say your I do's.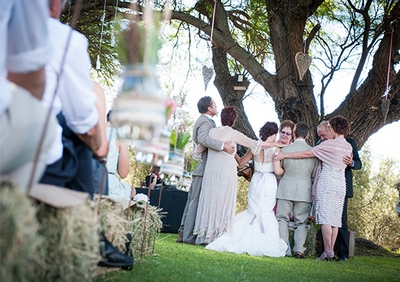 Some Catholic and Greek Orthodox priests, for example, will not perform ceremonies outside of their churches, while others will be happy to officiate your union in the great outdoors, provided your heads are covered by an arch or draped gazebo. Some marriage officers will be happy to marry you just about anywhere. It's important to know the guidelines so that you can plan for it on your big day.
(Above) 
Shot by: 
Carmen Visser Photography
2. Consider Religious Aspects to be Incorporated
It might be worthwhile to discuss the depth of religion that will be brought into your ceremony with your marriage officer. While some couples want to sing hymns and have religion be a prominent factor in their ceremony, others prefer to skim over the more serious religious parts, and it's vital that your marriage officer knows your stance on this so as to avoid any disappointment on your big day, says Nicci.
3. Choose a Male or Female Marriage Officer
Couples now have the option of choosing a male or female marriage officer, depending on which they feel more comfortable with.
4. Ensure your Marriage Officer is Certified
It may seem obvious, but should definitely not be taken for granted! From her experience, Nicci advises that you "take a moment to make sure that your chosen marriage officer is certified and qualified to perform your ceremony and legally register your marriage".
5. Trust your Marriage Officer
There is a huge amount of trust that goes into allowing a person to bind you and your other half forever, and you need to be confident that your trust is well placed. It would also be a fantastic idea to make sure that your chosen marriage officer is both reliable and reputable. This is not an area of your wedding that you can afford to take a risk on, says Nicci.
6. Connect with your Marriage Officer
One of the most important things says Nicci, is to "choose someone you are comfortable enough with to share the most intimate moment of your life with". It is crucially important, to your day, and the months leading up to your wedding, that you like your marriage officer, feel comfortable with them, and get on with them.
7. Calculate the Costs Involved
Marriage officers charge a fee or donation. Before booking him or her, find out what your marriage officer's fee includes. She advises that you ensure that their fee includes at least one pre-wedding consultation, travel, performing the ceremony, as well as the legal registration of your marriage.
8. Meet Beforehand
Regardless of who you choose to officiate your union, Nicci advises that you make sure to meet with your marriage officer beforehand to plan the ceremony and discuss the proceeding of events. This is especially important to do before you have your order of service printed, as well as to warn any family members that will be called up to be involved in your ceremony.
9. Understand the Order of Ceremony Events
It's also important to be aware of the proceeding of events to allow for extra time in the planning of your day. Nicci explains that most couples don't include time for the signing of the register, which will need to be indoors and may be some distance from your outdoor ceremony spot, for example. Furthermore, when compiling their wedding day timeline, many couples don't consider that guests should only technically shower the happy newlyweds with rose petals or confetti after they have signed the marriage register, because it is only then that they are technically married, not when walking back down the aisle to sign the register.
We have so much more expert advice to help you plan the wedding of your dreams from beginning to end!!!  Look out for the rest of our weekly Wedding Planning Series! Surprise instalments of expert insight and handy tips for planning every step of your wedding day will be shared in the upcoming weeks.