How to Plan Your Wedding Guest List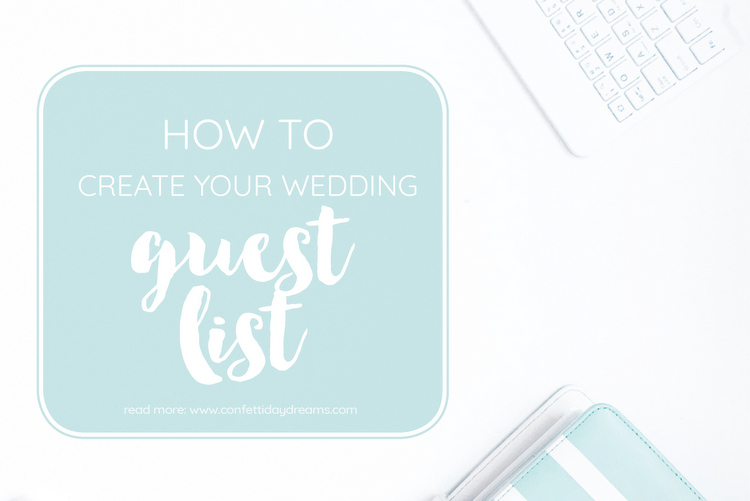 To help you from becoming overwhelmed by the planning of your wedding guest list, we provide key tips to guide you through the typical wedding guest list woes with a few tricks thrown in to help you handle some trickier guest list issues. 
Advertisement:


How to plan your wedding guest list
Consider the following when you begin compiling your wedding guest list:
Start by having an initial discussion with your partner to get on the same page. Are you thinking of a massive celebration inviting everyone you know and love? Perhaps you're envisioning an elopement, or an intimate backyard picnic with those closest to you? Maybe you're both somewhere in the middle.
Use a rough number as a rough starting point. Maybe you agree on around 100 people to begin with. Start with that rough number.(And remember that your parents might have some guests that they'd like to invite, too. Especially if they're contributing financially.)
Consider your wedding venue size: Does your number work with your venue? Is your wedding venue large enough to accommodate the number of guests you're thinking of inviting? Conversely, does your wedding venue have a have a minimum required head count? Make sure you number works within these parameters.
Look at your available budget per guest: Your wedding budget will determine how much you can afford to spend per guest for the type of wedding that you'd like. Bear in mind that each additional guest will require a place setting at a table with decor and drinks and a meal at the reception, as well as printed goods such as invitations, menus and programs. In 2017 in the states the average spend per wedding guest was around $270. In South Africa you can expect to pay around R2000 per person. Of course these numbers can vary wildly based on your decor and menu choices. Determine how many guests can you afford.
Compile a rough list of the people you'd like to invite on each side, and see if the numbers work. If not, rinse and repeat!
Takeaway Tip: You won't be able to please everyone, all of the time, including yourself and your fiancé, so decide where you will make your cuts guided by your wedding budget and venue.
When planning your wedding guest list
Keep in mind who foots the bill, as this is closely tied to guest list expectations. If either (or both) of your parents are expected to pay, they'll expect a say. Ideally it's the couple who should get the final say, but try to keep in mind that this is a special time for your parents, too. Try your best to accommodate as much as is reasonably possible.
Create a list of A-list guests VS B-list guests. Start with all the people whom you have to, want to and absolutely cannot be without at your wedding! This is the A-List, and can generally be more-or-less 10 percent over your budget and venue capacity because there is a good chance that you will receive at least this amount of declines.
Create a second list of people whom you'd like to invite if people on your A-List can't make it. Start inviting them once you begin receiving declines from your A-List, and make sure that you've got an appropriately dated RSVP time listed on your B-list stationery. You'll probably want to send your A-list ivites out a bit earlier than the recommended 8 weeks before the wedding, so that you can accommodate sending to your B-list guests without them.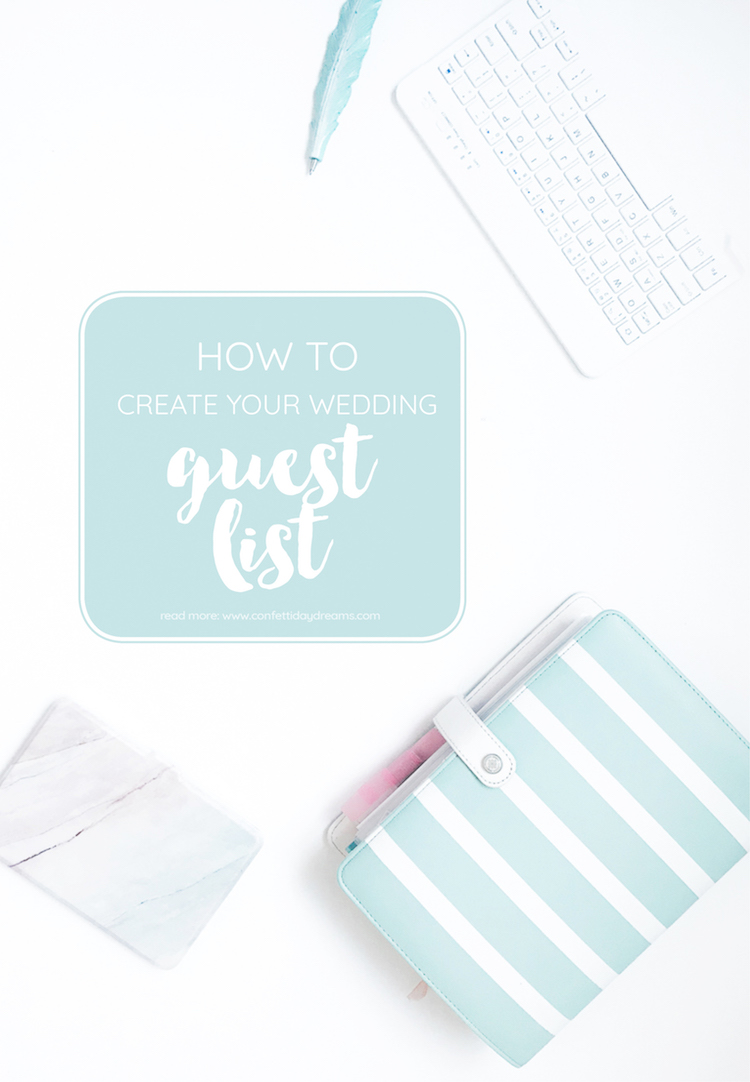 Things that Double or Reduce Guest Lists
Including plus-ones and children on your wedding guest list are two main aspects that can cause your guest list to grow and get out of control.
Plus Ones. You will have to consider the extent to which you will allow plus-ones for those of your wedding guests that are invited individually. Having no reservations when it comes to allowing your guests to bring along plus-ones may result in you having a wedding with several people you meeting for the first time on your wedding day. As much as you want each of your guests to enjoy themselves, you have to also consider your budget, the size of your wedding venue and other guests whom you'd prefer to invite.
Consider plus-ones with your budget and venue – You may feel that any guest over a certain age is allowed to bring along a plus-one or all guests get a plus one, even if they are single. If your budget and venue allows, first extend a plus-one invitation to those single guests who have been in a long-term relationship. Then if possible, single members of your bridal party or close loved ones should also be offered the option of inviting a plus-one. If your guest list is limited, consider how you feel about having plus-ones at your wedding whom you've never met or don't know that well.
Should I allow interchangeable plus-ones? A tricky situation lies in guests who have recently become single after you have already invited them with their partner. If they have recently become single, can they bring another person (whether you know their plus-one or not) in their old partners place? The decision to allow for interchangeable plus-ones lies with you. If you'd prefer that a specific plus-one attends your wedding with your invited guest, then you should invite them by name. Should your invited wedding guests RSVP with a different plus-one guest to whom you originally invited, then you can deal with each situation as they come along depending on your budget, venue and the comparative importance of guests already listed on your B-List.
Takeaway Tip: To keep the size of your wedding guest list down, we suggest that if your guest is not seated with people they have met before and know well enough to enjoy themselves, consider making the exception of allowing them to bring along a plus-one. For those invited guests that are single or have recently become single, but are friendly or related to other guests, it's more acceptable to not extend the plus-ones, should your budget or venue size not allow for it.
Children
Unless the children are immediate family or friends, including the children of your invited guests can add considerably to the overall number of guests and your costs.
Consider the extra costs. Bear in mind, that each child will count towards your per head fee if a seat will included for them in the seating plan. There is cost associated with a playroom, tables or a separate kiddies menu, and parents may prefer to have their kids sit at the same table as them.
Decide what the age limit for kids will be. Perhaps you don't mind having teenagers at your wedding or you would prefer to have an 18 years and older only event. Whatever your preference, it is up to you to decide whether you'd like to use an age limit for guest list.
Consider the time your wedding will be held. Daytime weddings are more kid-friendly, whereas evening receptions are generally regarded as an adult affair, as this is usually near kiddies bedtimes.
Takeaway Tip: If you choose not to accommodate children at your wedding for whatever reason, be mindful should youe cave in and allow your invited guests to change your mind. Making exceptions for certain guests and not for others may backfire.
Handling Tricky Guest List Situations
There are a few tricky situations that you may encounter when creating your wedding guest list. Each family comes with its own set of dynamics, requiring careful consideration and a thoughtful approach. Here are a few of the common tricky guest list situations that you may find yourself in with tips on how to navigate family politics when drafting your guest list:
Drop or keep extended family, long-lost friends and acquaintances?– Figuring out where and how to draw the line at extended family and friends whom you haven't seen in ages and acquaintances from social circles and work can be quite tricky. It all comes down to a process of elimination from the most important people in your life currently to those whom you only see now and again and are not quite close to. A good way to make the cut is to exclude those whom you don't spend time with socially. It all depends whether you see yourself spending your future with them. Some couples solve the problem by only inviting people that they have seen over a certain period, be it six months, 12 months or two years.
Estranged family – It can be a sensitive topic – do you invite estranged family members whom you fell out with or have no present relationship with? This decision lies entirely with you. Of course mending broken family ties can be a good thing. However, you will need to decide if your wedding is the correct time and place to mend these bonds. Perhaps consider reaching out to your estranged family to mend ties many months before the invitations are sent out, to see how things stand between you. If this attempt at reconnecting does not work out, or if you cannot even see yourself making that first attempt, perhaps having this person attend your wedding would not be the best decision.
Takeaway Tip: Try to save a seat for those old friends whom you've had for life and can easily pick up with no matter how long it's been. 
There are so many guest list situations that you may not be able to anticipate. Remember, it's your and your partner's party so invite those who you want to celebrate with, who you connect with and who will add joy to your special day.
READ OUR WEDDING PLANNING SERIES NEXT:
Wedding planning workbooks + downloads:
Wedding planning insights: