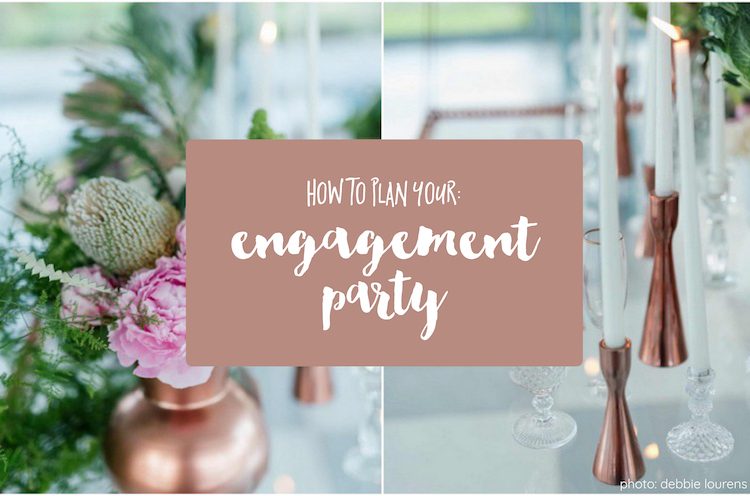 How to plan your engagement party
You're engaged – hooray! Congratulations on your new statuses as fiances and welcome to this new exciting phase of your lives. To get you started on your wedding planning journey we have gathered some guidance on what to do before, during and after you plan your engagement party. Beneath lie a few of the key steps to plan your engagement party once you have said yes!
Advertisement:


Heads up! Before you rush to start planning your engagement party, stop and spare a thought for how you are going to tell every one that you're engaged. From in person or over the phone, or saving the news as a surprise at your surprise engagement party, to killing two blue birds with one stone at a family gathering, figuring out which way is best for you to share your news with your closest loved ones is essential.
Check out our advice and fun ideas for announcing your engagement here.
Planning An Engagement Party
Not only is your engagement party an opportunity for your closest loved ones to congratulate you, but an engagement party is also a chance for everyone to meet in one place, get to know one another.
In the dinosaur days, engagement parties were hosted by the bride-to-be's parents. This originates from the times when a women was considered the property of her father, to be handed over to a husband. Thankfully, those days are gone. In its place comes the freedom plan your engagement party your own way. So, if you like, your engagement party can be hosted by both sets of in-laws, family, friends or by your own damn selves!
HOW TO PLAN YOUR ENGAGEMENT PARTY:
 Set a date for your engagement party
Generally, the engagement party is held two to four months after the proposal, when the news is still fresh. When setting a date, consider how long it will take to plan your engagement party, when it will be financially affordable to throw the party, and when the majority of the invited guests will be available to attend. If there are some people you just can't do without, maybe chat to them first about date conflicts so that you can plan accordingly. Do NOT do this for everyone though, or you run the risk of your lives turning into a nightmare trying to accommodate everyone on your guest list!
2. Draw up a guest list for your engagement party
As an engagement party is generally a more intimate affair than your wedding, you would normally only invite your immediate loved ones. Keep in mind that guests invited to the engagement party will almost certainly expect to be invited to your wedding – so don't go overboard. Start with a draft wedding guest list and then trim it down to your immediate family, friends and potential bridal party. This will give you a good idea of what your engagement party guest list might look like.
3. Select and confirm your engagement party venue
If you're hosting at (your own or someone else's) home, you're good to go! If you plan to celebrate your engagement someplace else, like your local tapas bar, or with a picnic at a botanical garden, make sure you confirm your booking before inviting your guests. Remember, this is not your wedding, so a three-course meal with floral chandeliers and live entertainment is not required. Usually a few beverages, cocktail-style eats (or a barbeque) and awesome company will do.
4. Consider Gift Expectations
While gifts are not normally expected for an engagement party, some guests might not know if they're mean to arrive with a gift in hand. Remember that wedding celebrations can become gift-burdensome for guests, which generally mean bachelorette and wedding day gifts. If you're not expecting gifts, make sure you to let your guests know. And, whatever you do, don't ever put gift registry info on an invitation. Use word of mouth, parents / BFF's or, later in the process, a wedding website to help spread the word about a registry.
5. Invite your guests
Don't stress if you haven't figured out your wedding colors or date. Your engagement party invitations don't have to match the rest of your wedding stationery, and your wedding Save The Dates will inform your peeps about the rest of your wedding details, later.
Sending out your engagement party invitations can be done in a variety of different ways. Perhaps your parents and older folk might prefer an invitation posted or hand delivered to them. Other, more tech inclined guests will likely do just fine with an online or digital invite via email / text. Digital invites are more affordable, quicker to send out, and much kinder to the environment. Check out sites like paperless post, and have a look at these 22 engagement party invites – including digital, DIY and home printable options!
6. Afterwards, thank your guests
If you feel you would like to extend your thanks over and above the thanks said at your engagement party, then it would be useful to keep a spread sheet of all of your guests in order to keep track of who gave what or who helped where. This will allow you to happily send out thank-you message straight away. You needn't go all out – a hand-written thank-you note here, a phone call or message sent there, should be thoughtful enough. And, if you didn't host the party yourself, a small gift to thank your hosts or to those who helped out more than others, is a great idea.
PS: Yay! You're ENGAGED!!!!
Read these 18 Tips for spectacular engagement photographs and get loads of gorgeous photo ideas for your engagement photoshoot.
READ OUR WEDDING PLANNING SERIES NEXT:
Wedding planning workbooks + downloads:
Wedding planning insights:
SEE BEAUTIFUL REAL WEDDINGS // SEE GORGEOUS WEDDING GOWNS
Read more wedding planning advice here.