Ooh!
Another free
PhotoBooth Sign Printable treat just for you!
♥  ♥  ♥
Looking to create your very own dreamy outdoor, vintage, whimsical, or carnival-themed wedding? Keen to capture your memories in a fun and different way? Well, take a peek at our very vintage "Right This Way To The PhotoBooth" sign, free for you to download and print!
Apart from your fabulous wedding photographer, photo booths are back with a flash as an awesome addition to any "alternative" wedding reception. Loads of fun and now more popular than ever, it's a super way to keep your guests entertained! Plus, being able to take their photo strip along home with and stare at it day-by-day on their refrigerator, should ensure that your guests will be laughing long after your wedding day has come to an end.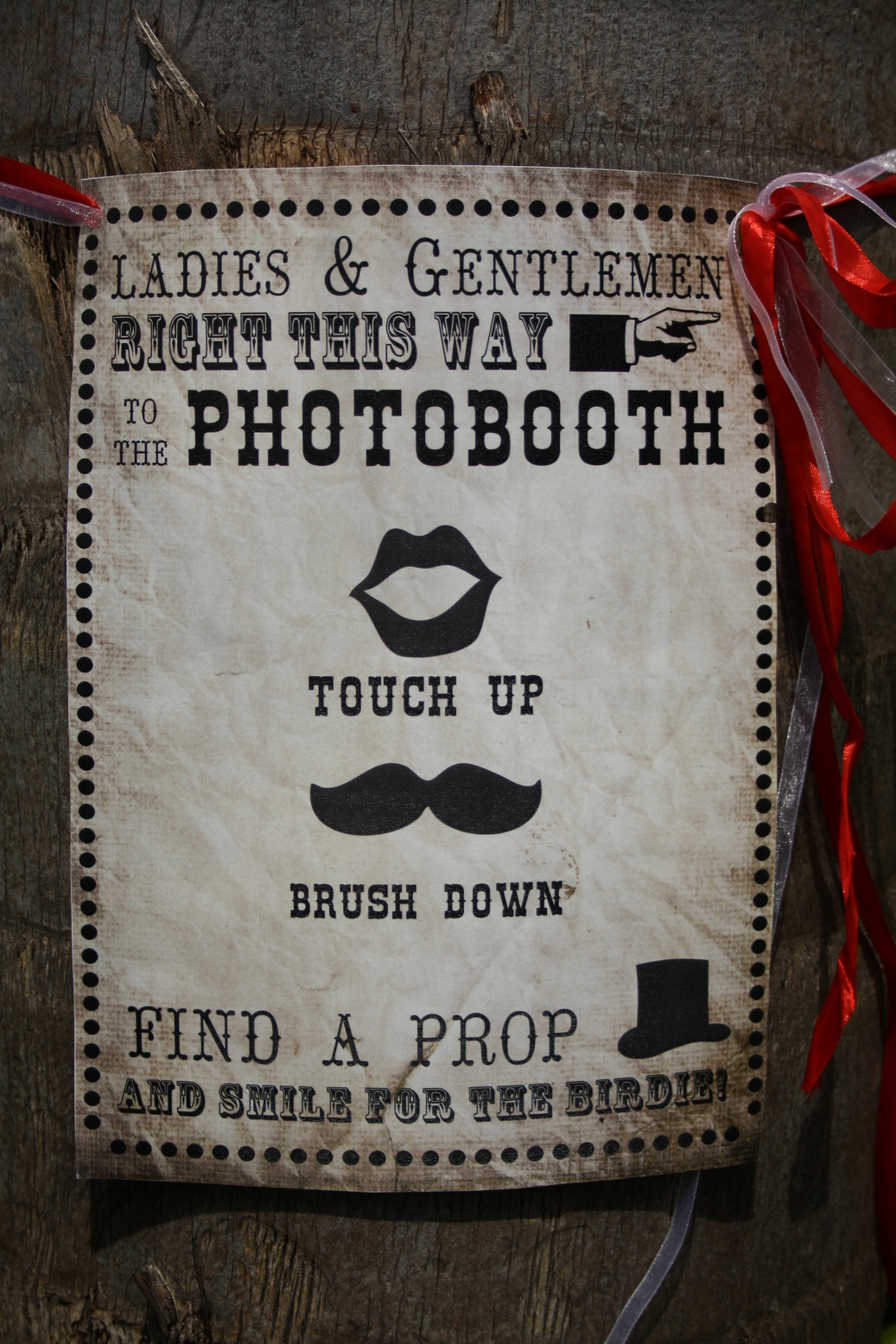 Once you've hired your photo booth, all you need next is a great photo booth sign and some groovy photo booth props. Well, we have created exactly what you will need to guide your guests on the right path to photo booth madness on your wedding day! Our Free PhotoBooth Sign is available just for you to download.
Displaying your Photo Booth Sign
We think that our free photo booth sign just couldn't look any better! We love it! Here are some our ideas on how to display your sign at your wedding reception:
Use pretty ribbon or lace and tie your photo booth  sign around a tree that is close by or next to your photo booth.
Hang your sign on a washline created by extending ribbon or string between two trees and securing them.
Display your sign in a vintage, distressed wooden frame on a table in front of your photo booth.
Print several copies of your sign and display them on a few trees to guide your guests to where your photo booth can be found.
Below are a few more really cool ideas of how others have displayed their signs:
From Catch My Party, their charming "Step Right Up to the Photobooth Sign" was fastened on a thin wooden stick, which was stuck into the ground. Displayed next to several colourful balloons and against a wooden background, we think that this photo booth sign really stands out!
 Bump Smitten, who are smitten about photo booths shares this fanciful idea with us! Paste your photo booth sign on a board that is decorated with materials that suit your wedding theme and suspend it from a delightful metal stand as seen here below.
Short of a stick or a stand? Well, we have you covered with this delightful carnival-themed wedding as shown on the pretty amazing Pretty Blog, which turned to nature with this "Step Right Up" photo booth sign pinned onto a wooden lamp post.
We're so excited just thinking of all the photo booth fun you're going to have on your wedding day! We hope that we have pointed you in the right direction of how to guide your guests on their way to photo booth fun!